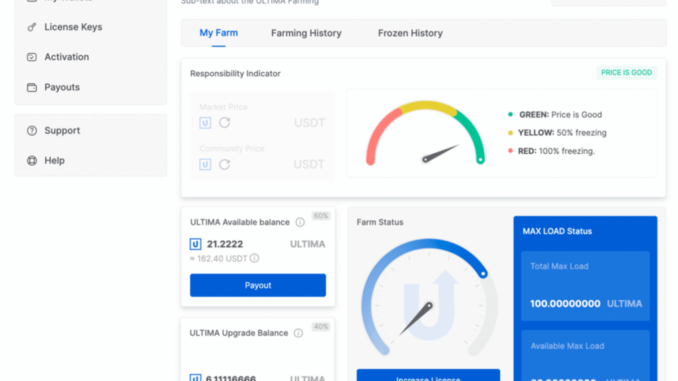 You want to buy Ultima Farm and don't know how? Then you've come to the right place. In the previous articles, I explained what Ultima Farm is and shared my Ultima Farm review. In this article, we will go through all the necessary steps step by step. I'll show you how to register and buy, and in the next article, I'll guide you through the first withdrawal and use of the yield.
Please note that the sale of the farm starts on April 10th. As experience has shown, there will be minor adjustments in the first few days and weeks. Even though I try to keep everything up to date, what is stated on the company's website always applies. If you have any problems, feel free to send me a message or leave a comment under this article so that I can improve it.
Buying Ultima Farm – Step by Step
The first step to using Ultimafarm is to register for free. Below, I will guide you through an illustrated guide:
Step 1: Ultima Farm – Registration
To register, visit the website www.ultimafarm.com.
Once you have arrived on the page, you can change your language by clicking on the flag in the top right corner if it is not automatically set correctly.
Then click on Sign Up next to the flag. You will be taken to the following page:
Fill out this page truthfully. Then click the checkboxes to agree to the terms and conditions and the privacy policy and confirm that all information is correct.
Once everything has been filled out properly, click Sign Up.
Step 2: Confirm email address
If everything worked, the next page will look like this: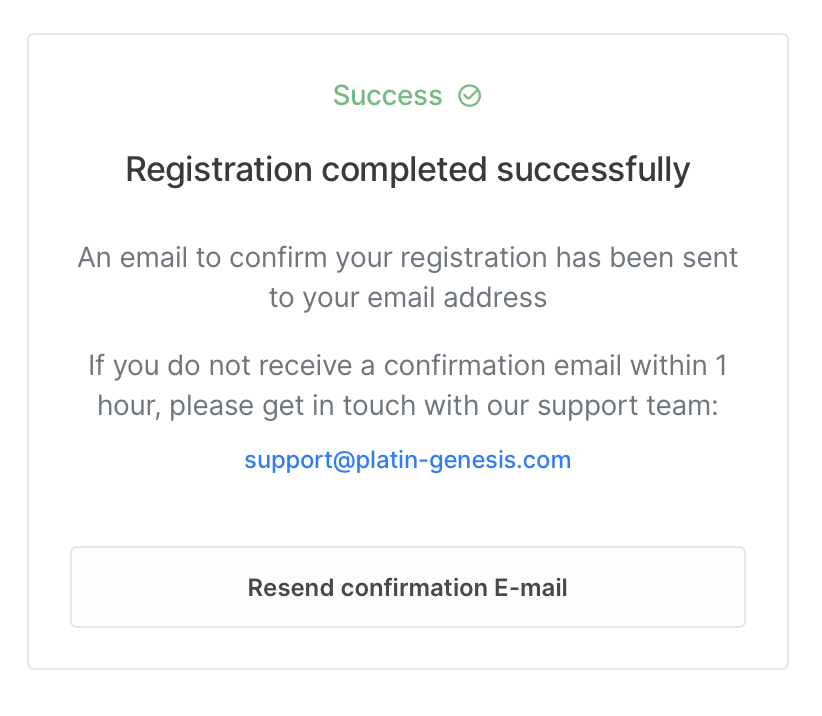 We will now visit the inbox of the email address with which you just registered. There, we look for the following email. If you can't find it, please also check the junk/spam folder. Open the email and click the big yellow button to confirm your email address.

If that worked, you will see this success message:
Great! Your registration has now worked. With a click on "Go to Ultimafarm" or by calling up www.ultimafarm.com again, you will be taken back to the start page, where you can log in.
Log in to your account and accept all other documents.
Look again at the top right corner where you set the language and registered. Next to the Sign Up button, you will find Sign In. Click on it and enter your email address and password on the following page.
On your first login, you will be asked to accept all documents again. Click on the button next to Accept all and the one below to confirm your consent to the documents.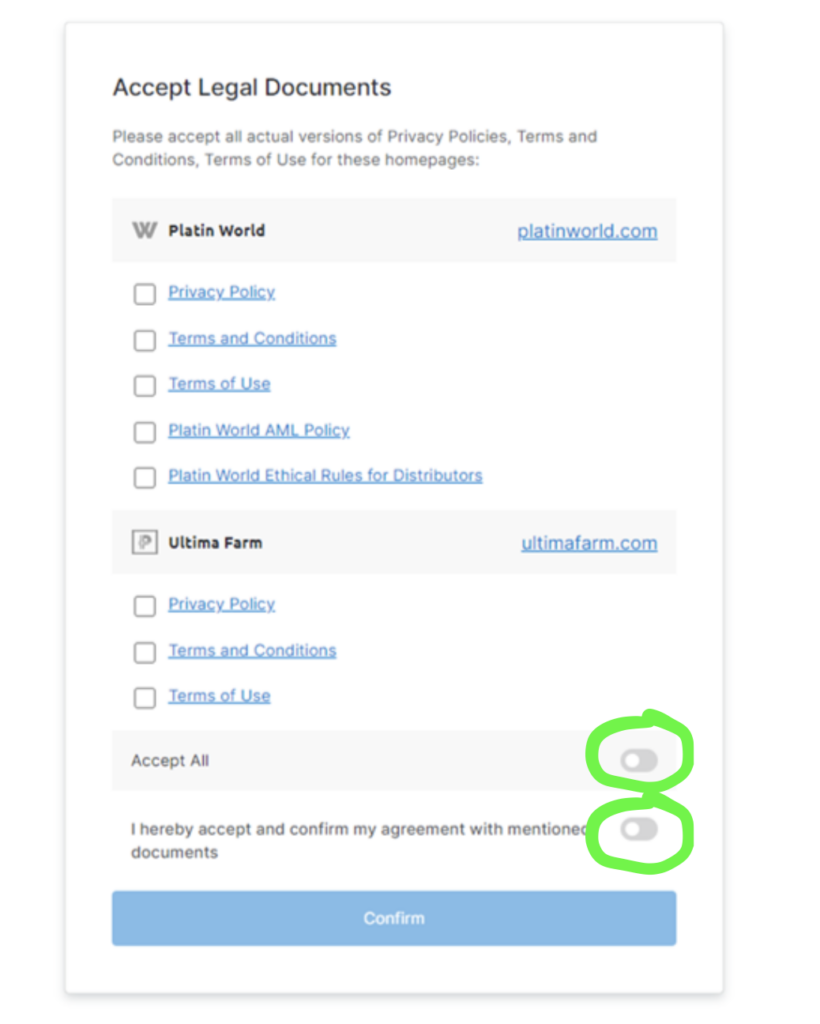 Step 3 – Welcome to the Dashboard!
Your registration is now complete. You will see a pop-up with the latest news from the company, which you can close by clicking on the X.
In the upper half, you will now see responsibility Indicator. Below that, you see an overview of your farm (which, of course, has neither loading capacity/maxload nor fill at this point).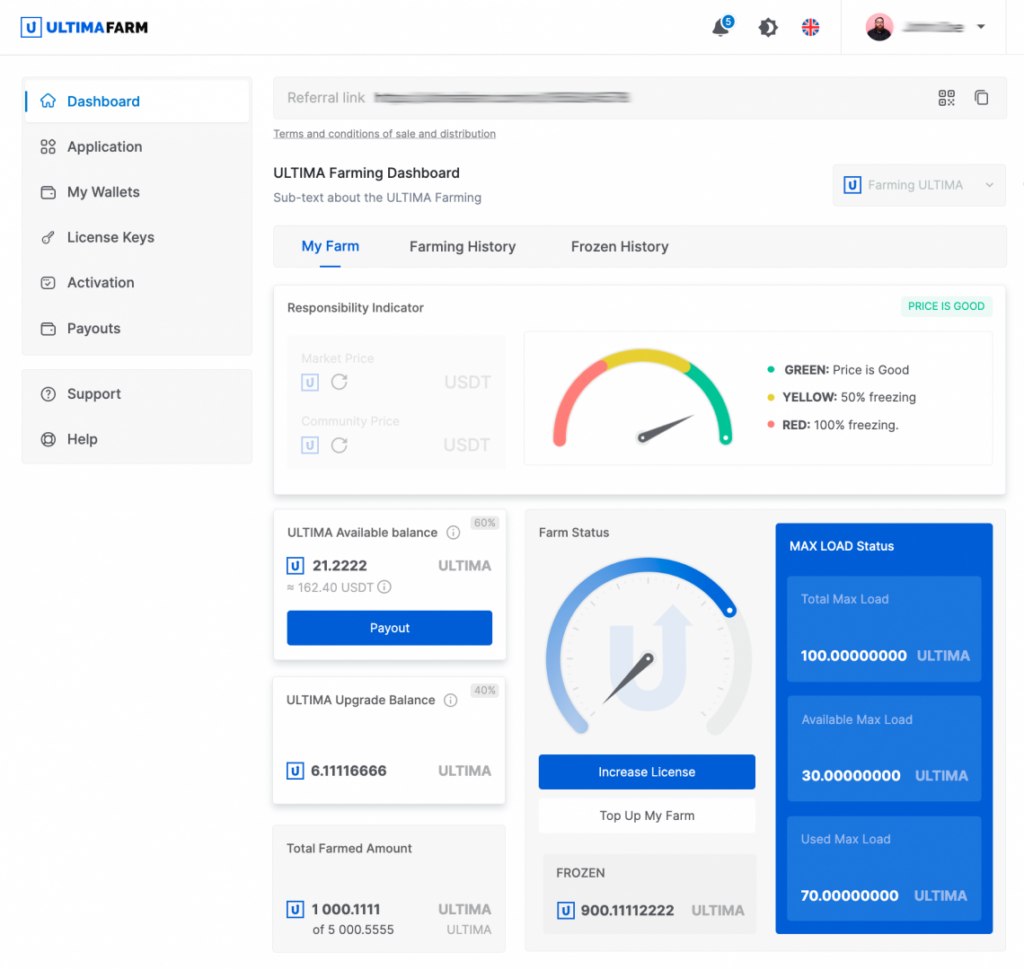 If you scroll down, you will find all available Ultima Farm packages and their prices and conditions. (Please note that this is an example image and does not reflect current conditions.)
Now you have to decide which farm size suits you. The price in euros and the associated max load are listed for each package. This tells you how many Ultima you can put in the farm. Since you have 24 months to fill the farm, it makes sense to start with a larger farm to reserve the best max load. Later, you can gradually fill it and also use the returns for this.
To understand the budget you need, you must therefore consider the following parts:
The price of the Ultima Farm package (in euros)
The amount of Ultima you want to charge (here you either calculate Maxload x Ultima price or less if you want to fill them gradually
Now add a buffer of 5-10€, better yet 20€ on top to prepare for transaction fees and any exchange rate fluctuations (Euro-Dollar). Of course, you can always reload.
But before you can buy your Ultima Farm, we need to obtain USDT first.
Step 4 – Purchasing USDT
USDT is a cryptocurrency token that is worth exactly one dollar. It is used for payment. To get USDT, we need to sign up for a cryptocurrency exchange, verify our identity, and then make a deposit. You have several options for this. If you are already signed up for an exchange, you can skip this step and get your USDT there. The quickest way to get USDT is by credit card. Bank transfer is also possible. Keep in mind that the offered Maxload for the farms is reduced every few weeks, so you should make the deposit quickly. For larger amounts, bank transfer is the preferred method, as the fees are lower.
Buying USDT via Binance – Credit Card or SEPA
Binance is the largest exchange and offers many features. You can choose between credit card deposit (1.8% fee) and SEPA, giving you flexibility. Some customers have had difficulty depositing funds, meaning the transfer was returned. However, I have been using the exchange for a long time and have never had any problems myself, and I consider it very reliable. The steps shown work almost identically on most exchanges.
Binance Step 1: Sign up and Verify
To use Binance, go to binance.com – be sure never to go to an exchange via Google, as you could end up on scam sites. After registering, you will need to verify your identity by providing ID documents so that the exchange knows who you are. Here is an explanation of these first steps, made by Binance.
In case that's not sufficient as explaination, here is what to do after verifiying and transfering money to Binance:
Binance Step 2 – Exchange FIAT for USDT and Withdraw as USDT-TRC20
Once registration is complete and the mony you deposited has arrived in your account, all you need to do is exchange them for USDT. To do this, click on Trade in your Binance account, then Conversion.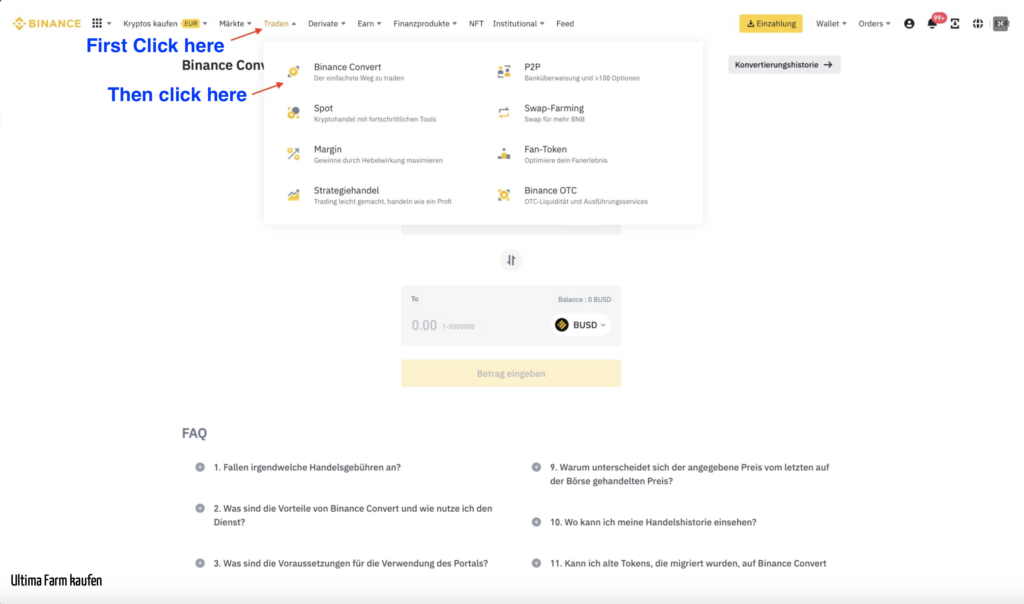 Then select EUR (or your currency) in the upper field and USDT in the lower field. Enter how many euros you want to exchange (for all of them, click on the balance number above the currency symbol). Then click on Preview Conversion (the big yellow button) and confirm the displayed exchange with another click on the button. Done! You now have USDT and can withdraw it at any time to use for payment.
Binance Step 3 – Withdraw USDT as TRC20 to Pay
Please note that you should only carry out this step here once you have chosen your Ultima Farm package and are on the payment page. You can skip this paragraph or practice it dry.
To do this, move your mouse pointer to the upper right corner and click on Wallet (1). In the menu that opens, click on Fiat & Spot (2). Once there, you will see the yellow Deposit button at the top right, and next to it, the grayed-out "Withdraw" button. Click on Withdraw (3).

Once you have completed this step, you will come to this screen, which I have already pre-filled in the screenshot.
Select USDT as the currency, use the wallet address from the payment page (which you will see when we buy your Ultima Farm package), and choose TRX (TRC20) as the network.
Then enter the required amount for the package purchase + 1 USDT – a 1 USDT withdrawal fee will be charged, and you want to make sure that the final amount is exactly as shown on the payment page.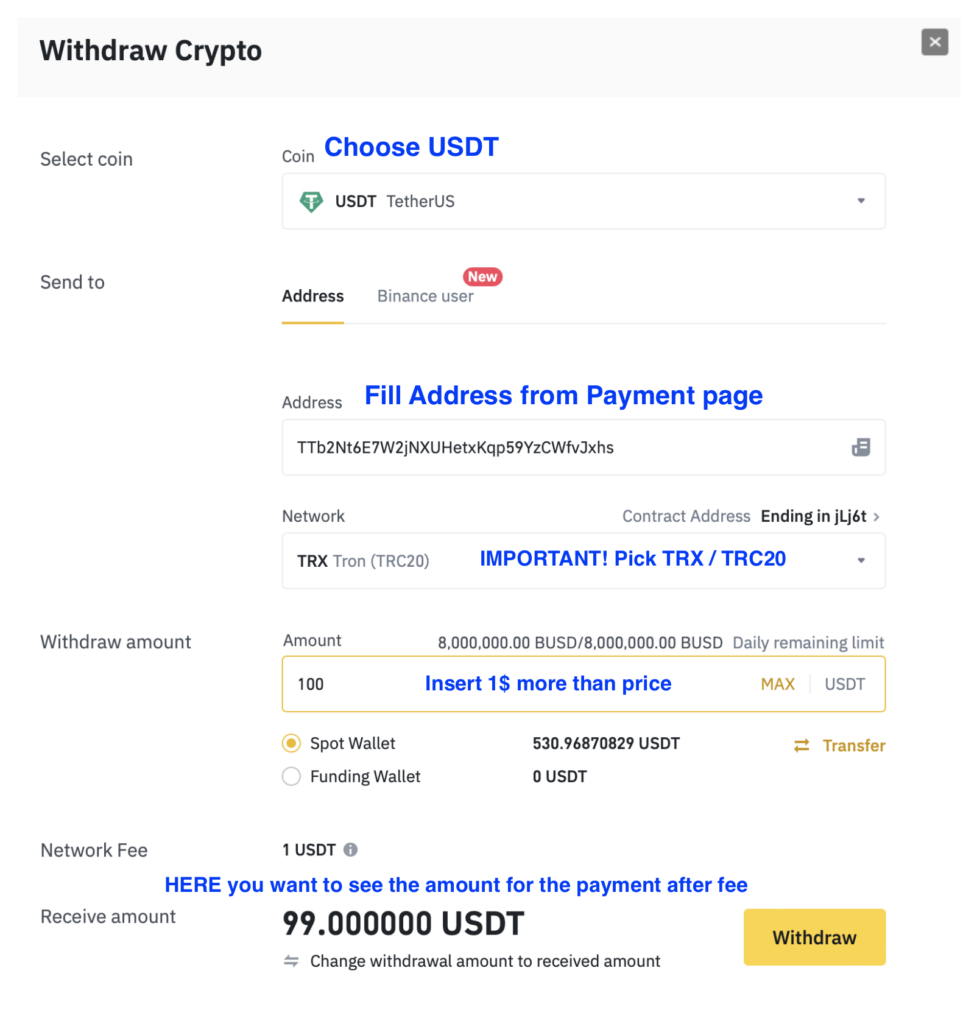 Step 5 – Select and buy Ultima Farm package
If you are no longer in the Ultimafarm dashboard, visit it now. Go to Ultimafarm.com and log in as before in step 2. Scroll down to the available packages.
Attention! The Ultima Farms will be launched on April 10th! This article will help you prepare, but you will have to wait until then to buy the product.
For the Ultima Minter, there are several price tiers. You will always see the respective max load displayed. Keep in mind that at this point you are buying an empty farm – in order to generate returns, it will also need to be filled in the next step.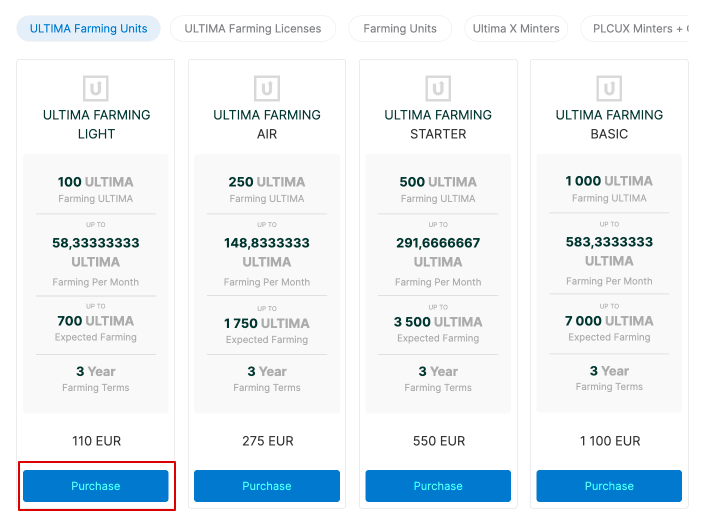 Now click on Purchase for the farm you have selected.
On the next page, you can choose which token you want to use to pay. We prefer to use USDT-TRC20 because transaction fees are low while the speed is very high. Choose the red Tether (USDT) TRC20 and confirm the terms and conditions in the field that opens before clicking Buy now.

Paying with USDT from Binance
The next window shows you how much USDT you need to send to which address. If you haven't already done so, open Binance in a second tab in your browser.
Copy the address highlighted on the Ultima payment page and paste it into the withdrawal screen on Binance. Remember that you must withdraw USDT on the TRC20 network and that the amount AFTER the fee must be exactly the same as the amount on the payment page. If you are unsure, go back to the relevant instructions.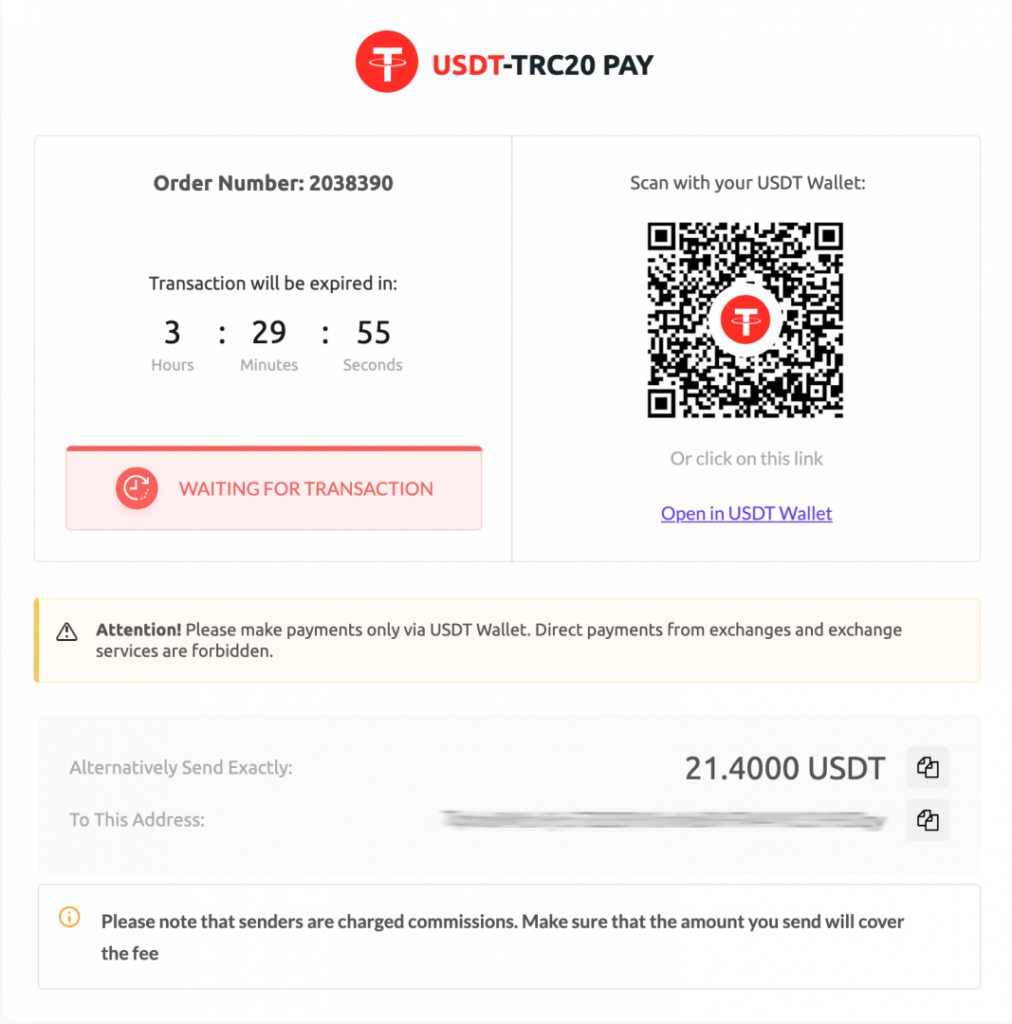 After you have initiated the withdrawal, you will be asked for confirmation codes – by SMS, authenticator or email – everything the exchanges have on hand to protect you. Fill in all fields properly and confirm the transaction.
Once you see a success message on the Binance page, reopen the payment page and wait a bit. Binance usually pays out within minutes, so the payment page automatically switches to a purchase confirmation. However, you have two hours to pay and can do nothing but wait. So grab a coffee and do something else if it doesn't continue immediately. 🙂
Step 6 – Buy Ultima Farm
It all worked and you were automatically redirected to the success message.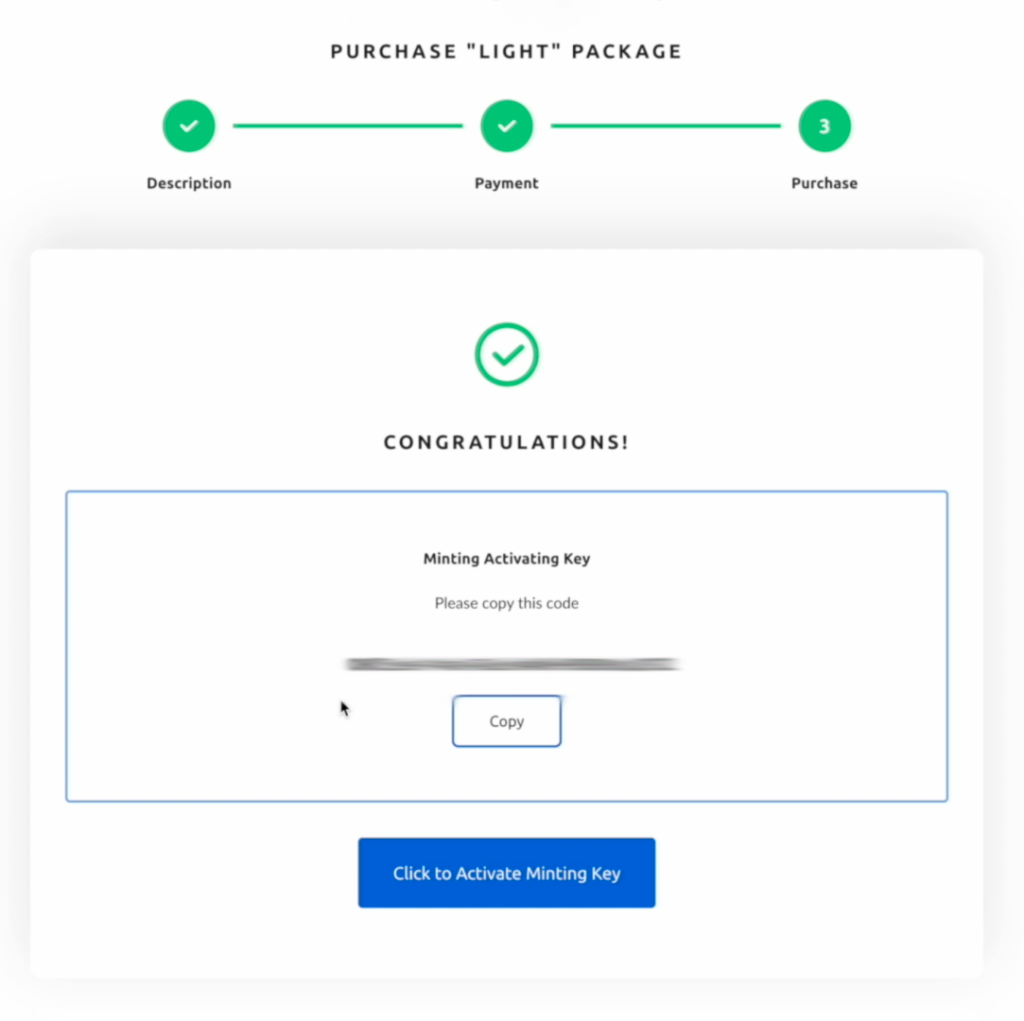 Congratulations and welcome to the other side! Now click on Activate now.
On the following page, you'll see a field that already has an activation pre-filled. Click the big activation button here as well.
This will start the minter and your 2 years to load it will begin ticking. Click on Dashboard in the top left menu to see the state of your minter – Max Load and Fill Level.
If you are unsure whether the activation was successful, go to the activation key section. There you will see all previous purchases, and if your license has not yet been activated, you will also find the Activate button there.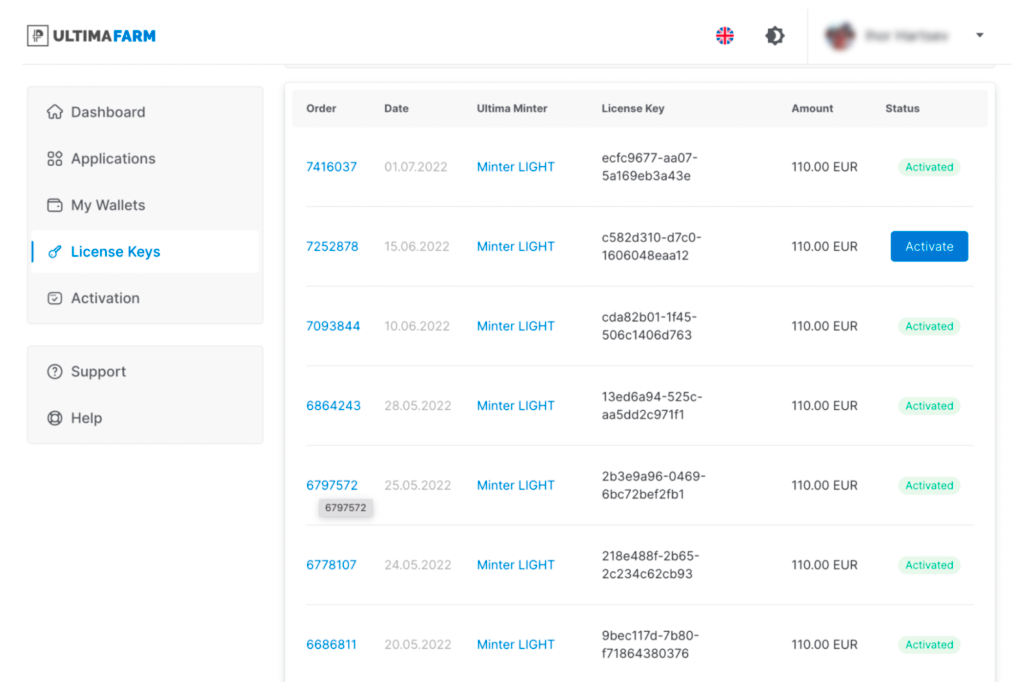 Step 7: Load the Ultima Minter
Scroll down again in the Dashboard to where you just bought the Ultima Minter. You'll now find an expanded selection of packages there. In addition to the Ultima Minters (to buy more Max Load), you'll also find the Farming Units, which will fill your farm for you. Conveniently, only units that fit within your Max Load range are offered. Choose a suitable Farming Unit, click Buy Now, and pay for it using the same method you used to buy the Ultima Farm.
(Feel free to scroll up one step to do so.)
If this purchase also worked, you can see in your Dashboard that your farm is loaded and you can look forward to your first yield in a month!
In my next article, I will of course be at your side with advice and guidance, showing you how to withdraw and use your yield. Until then, make sure to check the company's official channels on Telegram to stay up to date.